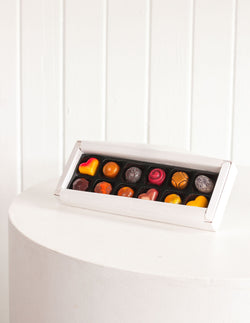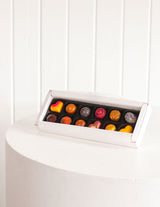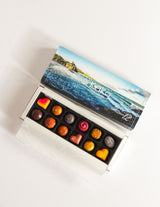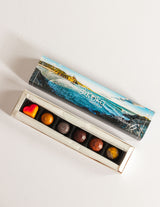 Handmade Chocolate Bonbons
Taking it to the next level, the Kāko Artisan 12 Collection is a selection of 12 bon-bon style chocolate creations each of which are exceptionally unique and packed full of flavour. 
The Artisan 12 Collection is proudly handcrafted in New Zealand and is the perfect decadent starting point for your Kāko chocolate adventure or to give as a gift to someone special. Sharing is optional.
12 Exceptional Flavours:  Passionfruit, Peanut Butter, Cool Mine Creme, Vanilla Caramel, Salted Caramel, Gooey Caramel, Gingerbread Cream, Lemon Curd, Dark Raspberry, Golden Orange, Vanilla Bean, Rose Caramel.
The Wild Flower delivers flowers throughout the Wellington Region and gift items nationwide.
Same day delivery is available for all weekday orders placed before 3pm. For Saturday deliveries, orders must be placed by 9pm Friday. Please use our delivery calendar on the cart page to select your delivery date.
The appropriate delivery fee will be presented at checkout after a delivery address is entered. Please ensure the correct address and post code is provided as our system relies on this to provide the correct rate.
Delivery fees are:
   •  Wellington CBD $10
   •  Wellington Suburbs $16.00
   •  Hutt Valley $20.00
   •  Porirua $20.00
   •  Kapiti Coast $30
All Saturday deliveries are $25, including CBD. Please note we are unable to deliver to Kapiti Coast or to rural addresses on weekends.
For more information on our delivery service, please review our FAQs and Delivery Policy or call the store on 04 210 0799.