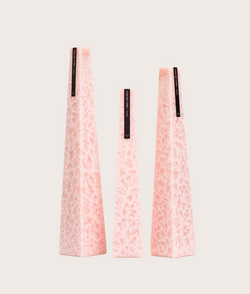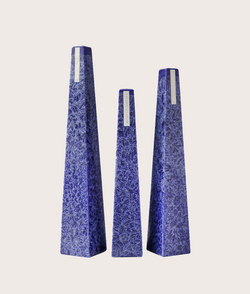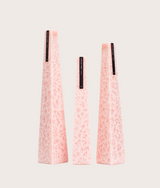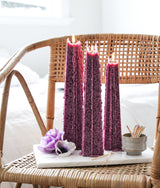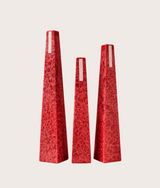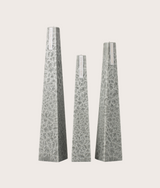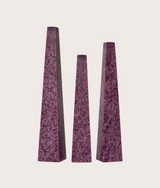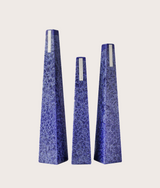 The "Living Light Icicle"
The Living Light Icicle is handmade with natural plant and New Zealand beeswax. The crystalline structure of these sculptural candles develops a unique lace-like pattern as it burns.
This multi-sensory home accessory not only smells amazing but changes form as the melted wax drips down the side of the candle creating an icicle effect.
As our top selling candle, we guarantee you will get many hours of wonder and enjoyment seeing how your icicle evolves over time.
Available in six exquisite scents.
Candles are sold separately - pictures indicate the different sizes available. Candle comes boxed in tissue & finished off with a bow
Please note: these candles need to be placed on a large burning plate to catch the dripping wax.
Handmade in Golden Bay, New Zealand.
*** 
By continuing to the cart, you acknowledge and accept our Delivery Policy. If you require assistance, please review our FAQs or call our friendly staff on 04 210 0799.
The Wild Flower delivers flowers throughout the Wellington Region and gift items nationwide.
Same day delivery is available for all weekday orders placed before 3pm. For Saturday deliveries, orders must be placed by 9pm Friday. Please use our delivery calendar on the cart page to select your delivery date.
The appropriate delivery fee will be presented at checkout after a delivery address is entered. Please ensure the correct address and post code is provided as our system relies on this to provide the correct rate.
Delivery fees are:
   •  Wellington CBD $10
   •  Wellington Suburbs $16.00
   •  Hutt Valley $20.00
   •  Porirua $20.00
   •  Kapiti Coast $30
All Saturday deliveries are $25, including CBD. Please note we are unable to deliver to Kapiti Coast or to rural addresses on weekends.
For more information on our delivery service, please review our FAQs and Delivery Policy or call the store on 04 210 0799.